[Photo: Features Memphis Mayor Elect Jim Strickland and Memphis First Woman Fire Chief Gina Sweat]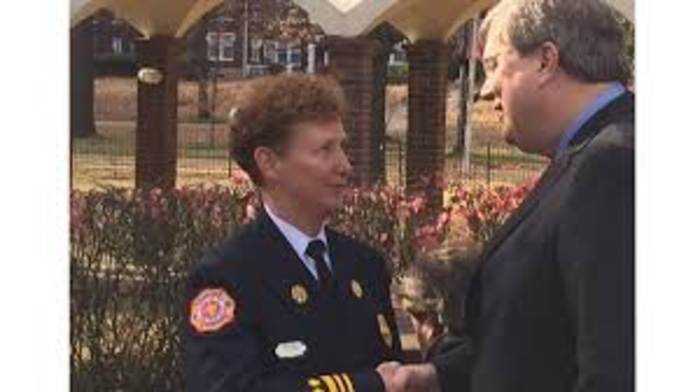 IT'S NOT THE FIRST HOMETOWN' LIL' EXTRA!
BUT IT'S BEEN A WHILE. ..
READ THESE FEW STORIES OF FIRSTS
STARTING WITH THIS FIRST
YOU HAVE BE TURNING OVER A NEW LEAF
AS MEMPHIS GETS IT FIRST FEMALE FIRE CHIEF
Day 15
Memphis
It's a first for Memphis history as the new Mayor-Elect Jim Strickland picked a new Fire Department Chief. What makes this a first is truly a few that it's the first woman to be picked for this position in Memphis' history. Strickland picked a 23-year veteran of the Fire Department Gina Sweat. She's been call a landmark pick for city according to the Mayor-Elect. The 49 year old joined the Fire Department of Memphis in 1992 and were among four women who were firefighters at that time. Sweat said she is overwhelmed to picked. The Mayor-Elect said that Gina Sweat was chosen for the job based on her merits and her dedication for service. Sweat is a native of Middle, Tennessee has a bachelor's degree in Business Admins. from Freed- Hardeman University.
Won't that make a few of the first? I would reckon so. But, I've got a few more stories to go.
TOLD THIS STORY BACK IN OCTOBER
AS NEW MEMPHIS MAYOR TOOK OVER
10.08.015
Memphis
Memphis elected its first White Mayor of Memphis in 24 years!
October 08, 2015
Memphis, TN
The voting polls were opened in the election begin to vote for a mayor. A.C. Wharton the current mayor was charged out by the voter's choice of Jim Strickland. This ended the second term for A.C. Wharton who had his light signal on being in the Mayor's seat once more. However, with all the votes counted, A.C. was out! The 24 years of having a Black Mayor running Memphis came to it's end for at least for now. Although the race was not about race, of Black and White Strickland had promises that favored Memphians which gave him the largest vote.
It's been some time since the Mayor's office had a White mayor....but everything has a season...I guess? The Strickland currents are ready to plug in. We congratulate the new mayor-elect and thank A.C. for his years of great electricity moments..
I know you probably already read that first back in October, but like I said " a few stories are first.." Thay say eveything old is new agin... Du..ugh! Ha!
Let's see if this next story is a first you can decide..
HERE'S A FIRST AND
ONE OF A KIND
THREE STORY HIGH
WITH CHILDREN IN MIND
Dec 16, 2015
Memphis
A three-story complex of machines worthy of NASA forms a core for a proton therapy center will be opening at St. Jude Research Hospital. This is also a world's first proton therapy center that will treat only children. The $90 million dollar project started in 2011 finally opened its doors on Monday, December 14, 2015. The center has lighted stairs, which plays music and leads to a rain-forest lobby where family and children enter into the Proton Therapy Center. The center will allow doctors to treat children with brain tumors, radiation, and Hodgkins lymphoma along with other cancers with extreme accuracy. Outside each room a is a lighted sign that details when the computer tomography is being used. This is part of the continuous research done by St. Jude as it reaches new elevation to combat children with cancers.
The world's first proton therapy...how few it that? It has three stories. I guess that's few. What you decided it is a few stories are first. Proton, New Trons... Why not? How come? Du...ugh!!!
Well, it's time for Lil' Extra to close up the stories. It's Christmas Time and we can know that story of the baby and the manger was one of few and a first. There are too many favorite cartoons about Christmas coming on. They'll be firsts for some kiddies to see...but we are no longer kiddies anymore...Wow! We can remember those firsts though. LOL! You know what I'm talking about? "Okay" I don't! Ha!
Bubbles ooooooooooooooOOOOOOOOOOOOOOOO...
"I'll see you around somewhere up in here!"
Perhaps, in Joy in the morning!
HOMETOWN MEMPHIS "A FEW STORIES ARE FIRST" is written by
MIISRAEL
HOMETOWN MEMPHIS, TENNESSEE
MY MESSAGE TO YOU: LET ME SAY IT FIRST BUT NOT FEW
"MERRY CHRISTMAS!"
MESSAGE SENT: GOOD BYE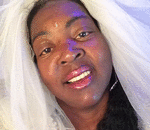 Posted By: MIISRAEL Bride
Wednesday, December 16th 2015 at 2:48PM
You can also
click here to view all posts by this author...