Dear Gardeners April 2018
Finding Garden Inspiration
April 04, 2018
Hello Gardeners!
It has been such a long Winter but finally Spring is surfacing into play. Everywhere there are a few signs of nature making changes to the warmer weather of growing. However, with that chill of staying snuggle inside somewhere there are gardens waiting for you to get inspired to grow in plan for starts.
If you are ready to go, please send me some of your remarkable inspired zest... In other words coach me the lazy one... Slowly I have Mo lasses in my you know what! I have become spoiled in my retirement year...to just taking it easy. Only this week I have had a tiny bit of spark to shop for garden beauties for my potting garden.
I love the beauty of seeing things grow, I am inspiration to my own low will to get started on my projects. As it gets warmer weather in Memphis I think I can get out of doors and revive my Love again...
May you find your own way of gardening life.. I hope you have made your decision to get planting and planning into action. If so, I can't resist waking up and finding the earth has need of busy hands to her soil. Take care invite yourself to get inspired... I feel it going to get some growing On!
Pep talk to you... I mean me.. I need it bad.. 😂 Lol!
So tell me..
How does your gardens grow?
Mine will grow with lots of inspiration and love..
Be back next month with tips for May Flowers..
Love to read your inspiration dears..
-Miisrael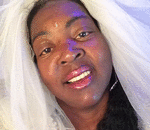 Posted By: MIISRAEL Bride
Wednesday, April 4th 2018 at 8:08PM
You can also
click here to view all posts by this author...