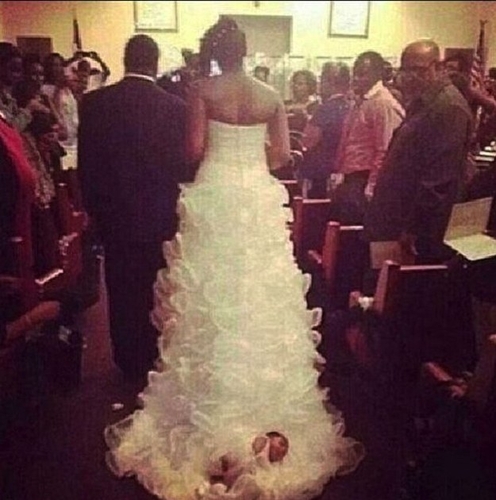 WEDDING DAY
Ripley, Tennessee
[Click on photo to see the something new]
A bride usually finds the rhyme of having those special items before a marriage. That includes traditional treasures of something old, something new, something borrowed and something blue. All for well-wishing for a lasting marriage. However one bride did take in making something entirely new when she included her new 1 month old baby as the something new! Taking that walk down the isle to her husband she also carried their new born tied to the hem of her dress. That's exactly what Shonda Carter-Brooks of Ripley, Tennessee did on her wedding day. The new born was tightly secured in a altered wedding dress especially made to carry her little baby Aubrey. All awed in the church wedding on-looking at the little baby at the hem of her mother's bridal train. When the picture was posted on Facebook and You Tube critics against child abuse considered it was the worst choice for her to drag her newborn on the floor. She made national news and was hit with ridicule for doing such an act with her beautiful 1 month old.
Nevertheless the Bride and Groom gave indications it was just some negative thoughts and a quick way for media to made news. Shonda was quoted as writing "People questioning what we do, commenting all negative and doing the most." "The answer is we do what we want long as Jesus on our side everything worked out fine and gone continue to be fine." "Our 1 month old was awake and well secured on my train." "Most of all while y'all got ya feeling in us, we had our hearts in Christ which covers all.!!"
It was An Odd Story, something really new too!
I think was surely Odd and New
but, perhaps not.
Everything old is new again.
That didn't stop the wedding!
THAT'S ALL FOLKS!
Bubbles...anyone? ooooooooooooooooo.oooooo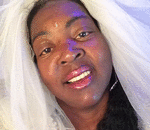 Posted By: MIISRAEL Bride
Tuesday, June 3rd 2014 at 4:59PM
You can also
click here to view all posts by this author...