Angels long to look...
AND THESE ARE MY LOVE LETTERS
FEBRUARY 24, 2010
Written while angels watched
My Darling Dearest:
Feel the impulses of compassions. I long terribly to kiss your hair, to kiss and smell the scent of the strains, to feel its subtle softness upon my lips.
This is how I love you. I would hold you too...just hold you in my arms. I think of this with tears and heavy sighing. Your eyes look at me with intrigue and myster. They look right through me. Can you love me Lord? Can you love me....as yours? I love you tenderly so that I bow down in humility; submissive just to be in your presence. Spirits have not touched in love like ours have.
In The End of Time I am touching you now. I feel your trembling as I am held nearest to you. I awe. I can feel your love from inside me. There is more which I have not written or spoken...but, I know there is more...
--MIISRAEL
WINNIESPOETRY LOVE LETTERS
FROM THE END OF TIMEFeb2010Copyrighted.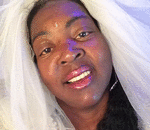 Posted By: MIISRAEL Bride
Monday, February 16th 2015 at 6:51AM
You can also
click here to view all posts by this author...