HOMETOWN MEMPHIS LIL' EXTRA! GIRLS BRAWL!
WITH KNUCKLE SANDWICHES!

So there you are..
so glad you dropped by
Hometown Memphis
YA KNOW ALMOST EVERY STORY NOW-A-DAYS
IS CAUGHT ON CAMERA
I have couple of stories that were
caught on camera, only thing is Hometown
Lil' Extra...you'll have to
read them instead.

LET'S READ!

FISTS ROCK AND SWAY AS FIGHT
GETS UNDERWAY WITH A CELL PHONE
RECORDING SCHOOL GIRLS ARE BRAWLING!
April 22, 2015
Memphis, Tennessee

Girls students at the White Station High School got into a cafeteria fight while a cell phone recored the incident. The girls had quite a tango, fist pounding, foot stumping brawl in the school's cafeteria. The fight was said to have been ignited by a posting on Facebook that got out of hand when a posting said a boy was doing a very grafic move in front of her house. It was all girls swinging arms and of course, making knucke sandwiches along with all the screaming. The cell phone recording was put on the inter-net went viral in a few hours. Eight of the girls fighting were sent home with suspensions. However, the news report of the girl fight was said not an everyday occurance. Students gave the news camera a good report of a great school and it's not often students at White Station even girls have fights.

What's with cafeteria and fights? It has to be something about sandwiches and knuckles.. I reckon?
Please, make mine to go on plain bread...with no knuckles... Girls know they can sling them arms!!!


THE TALE OF TABITHA GENTRY
HAD A HOME INVASION ENTRY
NOW SHE HAS MORE YEARS TO NERVE
AS HER MANSION DREAM IS IN A JAIL CELL CURVE
April 23, 2015
Memphis, Tennessee

The name is familar with many Memphians as Tabitha Gentry made national and local attention when she took over as a squatter at a Memphis mansion back in 2013. Gentry was sentenced today, April 23, 2015 for 25 years for aggravated burglary and theft. Gentry took over a mansion she claimed as hers, but was forced out when she claimed to have been permission to own the home because of her sovereign citizenship. Her road with the law has a bit of history as she was also being arrested for serving a 14 year sentence for assaulting two police officers back in 2012. Gentry is known for her out-of-order court outbursts and defiant attitude with law officials.

She got the other knuckles sandwich the one with wrist locks!!!...
BUT THIS GIRL KNOWS SHE CAN BRAWL!!!


Don't go yet.. this next story has a lone woman taking her knuckles out at the car wash...

SHE HAD NO JOLLY TIME CAR WASH
AS TWO MEN TRIED TO TAKE HER RIDE
SHE HAD KNUCKLE SANDWICHES
AND TWO MEN LOST THEIR MR. PRIDE!!!
April 22, 2015
Memphis, Tennessee

A woman who thought it was a great opportune time to wash her car went in to the Jolly Wash Car Wash located on Covington Pike had to wash up two men she had to fight! The two would be car-jackers didn't expect to be fought off with knuckle sandwiches, as the camera caught the woman handling the two of them like a pro! She could be seen throwing the washing throttle at one of them, then taking the hoodie completly over the head of the other one pulling him out of her driver's seat. She was seriously fending her own. She acted quickly, making every second count. She had both them wondering what happened? As she drove off; the would be car-jackers was getting out of her way when she put the pedal to the metal. They could be seen on the surveilance camera running out of her way leaving the duo-with some sore loser wounds.

Sore loser wounds...DU...UGH!!!
That woman was nothin to play with! She gave each of one them "knuckle car-wax sanwiches.. with a side order of BURNT RUBBER shiners"...They were burn...ning rubber out of her way..LOL!
Well, they might think twice about approaching women at car washes.
Anyway...

I love Memphis!!

How about a few Bubble sandwiches...these don't hurt at all..

OOOOOOOOOOOOOOooooooooo!

I'LL SEE YOU AROUND SOMEWHERE UP IN HERE!

HOMETOWN MEMPHIS LIL' EXTRA!
GIRLS BRAWL! WITH KNUCKLE SANDWICHES
written by MIISRAEL
Hometown Memphis, Tennessee

MY MESSAGE TO YOU:
Dishonesty is like a boomerang. About the time you think all is well, it hits you in the back of the head.--H Jackson Brown, Jr.

MESSAGE SENT: GOODBYE.


News Source: WREG MEMPHIS
LADIES...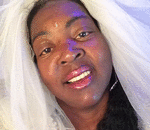 Posted By: MIISRAEL Bride
Thursday, April 23rd 2015 at 7:50PM
You can also
click here to view all posts by this author...