ESCAPES . . .
The bride readied for a trip boarded upon a bus to take her to her journey. The bus was a luxury line, and there were others aboard who dined at fancy tables with gentle conversations. When she noticed one of the passengers was one she knew she approached her and admired the newness of her look. Although the bride reconized her, she noticed her shape and features weren't quite the same. As the bride returned to her seating the bus then came to a bridge which was narrow in width; but somewhat seemed long to cross over. As it crossed over the sun was dimmed for a few seconds, then return to light that was brighter than before-- the closer to the end of the crossing the light was brighter too. There were new places to see on the journey. She knew Her Love Lord was the Light and she had no regrets to go back to old places of former things.
--MIISRAEL
"For we are not writing any other
things to you than what you read
or understand. Now I trust you
will undersand, even to the end."
2 Corinthians 1 13 NKJV
ESCAPES...
"The new places are being prepared...
and in the writings of the Spirit and the bride."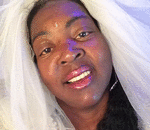 Posted By: MIISRAEL Bride
Friday, August 14th 2015 at 10:03AM
You can also
click here to view all posts by this author...