In the silence world of the deaf there comes prayers one prays with love and continual praises. Prayers that speak in a world of silence have the beautifying soul that speaks magnifying God's purity and astounding grace.
OUR FATHER
In the deaf of prayers you know
the silence of the heart that prayers.
Prayers with continual praises...
Prayers with grace and beauty of the Spirit....
Prayers with poetry and psalms.
Love and the salvation is heard.
The deaf hear,
the blind hear and see,
the dumb hear and speaks.
All the praises are no longer deaf;
but is poured with out with power and glory
for the greatest Love is spoken in purity
when calling on Thy Name.
in
Jesus Christ
Amen
--MIISRAEL
"Speak not in the ears of a fool: for he will despise the wisdom of thy words."
Proverbs: 23: 9 KJV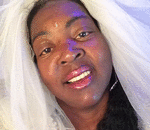 Posted By: MIISRAEL Bride
Sunday, August 16th 2015 at 8:46AM
You can also
click here to view all posts by this author...