BRICKS
Building a body of Spirit unto the Lord will mean leaving behind old traits of a past life. Bricks will stand on the true foundation that never passes away. There will be no unclean body, but Christ makes one a member of His body. The inheritance of the kingdom of God is sanctified. and justified by the name of the Lord Jesus. Therefore, strong faith, trust, and vows of commitment will become bricks of inheritance for the eternal improvement that forever lasts in the everlasting Kingdom of God.
INHERIT THE KINGDOM:
Know ye not that the unrighteous shall not inherit the kingdom of God? Be not deceived : neither fornicators, idolaters, nor adulterers, nor effeminate, nor abusers of themselves with mankind. Nor thieves, nor covetous, nor drunkards, nor revilers nor extortioners, shall inherit the kingdom of God. All such were some of you; but ye are washed, but ye are sanctified, but ye are justified in the name of Lord Jesus, and by the Spirit of our God.
--1 Corinthians: 9-11 KJV
BRICKS
written on Sunday
presented by MIISRAEL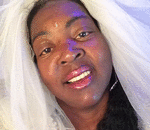 Posted By: MIISRAEL Bride
Sunday, October 18th 2015 at 9:51AM
You can also
click here to view all posts by this author...