G A R M E N T S
THE
ATTIRES
OF
SPIRITUAL
LIVING
Wear pure garments without stain washed and cleaned no longer defiled but purified in mind and in spirit.
"Unto the pure all things are pure; but unto them that
are defiled and unbelievers is nothing pure; but their mind
and conscience is defiled."
--Titus 1 : 15 KJV
GARMENTS
SUNDAY
presented by:
MIISRAEL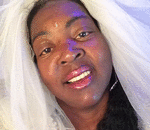 Posted By: MIISRAEL Bride
Sunday, May 15th 2016 at 10:42AM
You can also
click here to view all posts by this author...