I feel. ..
O' Heavenly Father:
I feel the prayers of love.
The prayers of happiness.
Holy art Thou.
Gracefully I give thanks.
I feel loved. .
I carry a sincere Spirit of Compassion.
Love art Thou.
In asking of Thee; prayers are from love inside my thoughts of purity.
My prayers are not hidden from Thee.
Never ceasing.......
I'm praying love is a feeling inside.
That is felt. .
in
Jesus
Amen
--MIISRAEL
WINNIESPOETRYRapture I PrayforUsCopyrighted2016
"Therefore let it be known to you that the salvation of God has been sent to the Gentiles, and they will hear it."
--Acts 28: 28 NKJV
"Pray for all nations of God especially those whom have believed in Jesus Christ."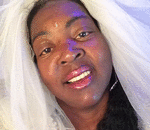 Posted By: MIISRAEL Bride
Sunday, May 22nd 2016 at 8:31AM
You can also
click here to view all posts by this author...