Your World News
Day 28,
May 2016
By invitation only Donald Trump is to be scheduled next month, July 2016 to meet with 400 Christian Leaders around the United States. The group is being organized from New York and news media states that the meeting is a closed interview with Republican Candidate Donald Trump. The group is being organized by Tony Perkins president of the Family Research Council and, head of the group United in Purpose; Bill Dallas and Ben Carson both formally were candidates for president. Many of the scheduled invited leaders are not totally in support of Mr. Trump and are slated against voting or endorsing him. According to Dallas the main goal of meeting Donald Trump is to get a main objective of what his goals are; if he is elected as the next president of the United States of America. Some of the topics of discussion may include Mr. Trump's ideals of abortions, immigrants, and race relations in present America along with religious issues that may be facing Christians and other free religious rights. The closed group maintains that Mr. Trump will be answering posed questions, and not making a public speech to the group.
O_O
It's a close want to WATCH TRUMP
:)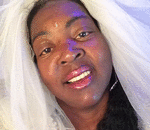 Posted By: MIISRAEL Bride
Saturday, May 28th 2016 at 10:17AM
You can also
click here to view all posts by this author...