"Many years later after his death... He may be called. The Catholic Church decision may determine him as a saint."
YOUR WORLD RELIGIOUS NEWS
FIRST AFRO AMERICAN PRIEST
MAY BE CANONIZED
Day 10
June 2016
World
Agustus Tolton lived his life as a Catholic Priest was born a slave in the State of Missouri but as slaves often faced oppositions often he may not have fully filled the merit of his position as priest. Lately the Archdiocese of Chicago are pushing ways to make the priest become a saint. Tolton became a priest at the age of 34 by influences of his parents and upbring in the Catholic surrounding. Agustus begin his short-lived priesthood in the town of Quincy, Mo where he did promising work to improve living conditions and treatment of slave and freed men. He was known popular by the locals in his community, but died during a heatwave in 1897 at he age of 43. Since most of history was well preserved of his life, the Archdiocese of Chicago has submitted that his works as well as his being the first Afro-American to be a priest that he become canonized as to become saint. They have pursued the nomination to Pope Francis who will have the official approval. They are hoping Pope Francis will honor and receive Father Agustus Tolton among one of the names of saints in the Catholic church.
WATCHFUL
FOR A SAINT
O_O
Article Reference Source:
http://www.worldreligionnews.com/religion-news/christianity/first-african-american-catholic-priest-in-the-u-s-could-be-canonized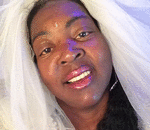 Posted By: MIISRAEL Bride
Friday, June 10th 2016 at 7:32PM
You can also
click here to view all posts by this author...