YOUR NATIONAL/WORLD NEWS
DAY 11
June 2016
San Jacinto, CA
GOOD MORNING!
It was a early wake up earthquake!
Residents near San Jacinto, and nearby Los Angeles and San Diego felt a bit of wake shaking on Friday, June 10, 2016. The quake shook and rattled sleepers around 1:00 a.m. Although there were a few power outages, the quake measured at 5.1. That was enough to awake sleepers and knock over a few items in residents that were effected. Although quakes are not uncommon in California, there is always a reaction to any quaking activity. Many residents shared their story in local news stories. No major injuries, of deaths were reported during the quakes wake up hour.
WAKE UP QUAKE
WATCHING YOU!
o-o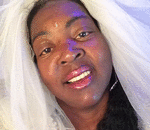 Posted By: MIISRAEL Bride
Saturday, June 11th 2016 at 8:14AM
You can also
click here to view all posts by this author...