DEAR GARDENERS
JUNE ISSUE 2016
IT'S EASY! Growning With Raised Flower Beds
written by
MIISRAEL BRIDE
Hometown Memphis, TN
Dearest Gardeners:
Let's face there are some among us are starting to grow into our senior ages. Olders gardeners will experience some discomfort to ways they were used to gardening with bending and kneeling over our flower beds. However, there are no solutions to aging that I can give I know that many can still enjoy using raised flower beds. I reckon. ..
Raised beds sounds perfect for planting and handling your basic gardening of plants and blooming flowers. Not only are raised beds easy to use, they are so attractive to lawns and decor of your flowers. Most times you can select to have them made, make them yourself, or you can buy them in different sizes ranges in prices as low as $16.00 up to $200.00. Of course, the bigger they are the larger the prices.
What are the advantages of raised flowers beds?

Most of all they save your back from prolong bending and makes it easier for you to work in a standing position. Depending on high you'd like your own raised bed you can select one that better suits your fancy! Raised flower beds can be in a variety of shapes and you can if you choose have a raised bed garden. Shop around if your interested. Many are sold on line, and if you know a carpenter or you can tinker with building a raised bed you can make your own in the designs you admire. Most seniors enjoy raised beds especially if they experience back pain from stooping and bending. It's especially easy for anyone though. Of course, I leave it to your own decision.
And gardeners, since I'm about to take to the retirement life, I may be looking at a raised garden for my own landscaping. Yes, I may be looking at that. Who knows; retirement may be good for me, I think I'll have much on my plate.... like-- Books, aging, writing, aging, planting, aging, performing, again aging, growing, and aging, artworks, aging...Oops! I guess got "raised" up in thoughts! Du..ugh! I know you have your own things to do... "Never mind me, I'm turning into a aging old retiring lady bride..Smiles." Ha!! "What u laughing bout?"
I'm retiring!!!!
Hometown Memphis, Tennessee ...Go read it today! Hometown Memphis, Tennessee ...Go read it today!
http://blackinamerica.com/content/293516/hometown-memphis-lil-extra-special-report-goodbyes-to-the-finest-mpd-officer-verdell-smith
So tell me; How does your gardens grow?
Well,
Mine grow with lots of love,
Love and harmony,
MIISRAEL
DEAR GARDENERS IS A ARTICLE OF
MIISRAEL'S BLOGS! It's Big!
http://Godsbloodybride.com/miisrael_blogs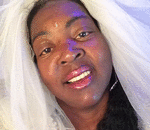 Posted By: MIISRAEL Bride
Wednesday, June 15th 2016 at 11:34AM
You can also
click here to view all posts by this author...