B R I C K S
Doctrine of the Lord is having the bricks of His sound word and even those who benefit the building of the Lord are loved by the Lord. They will be wholesome words of truth and faith. They will be bricks of love and charity. They will have also the garments of purity and strong lasting godliness. Wholesome bricks on a wholesome foundation that will not pass but draw all men.
WHOLESOME WORDS:
Let as many bondservants as are under the yoke count their masters worth of all honor, so that the name of God and His doctrine may not be blasphemed. And those who have believing masters let them not despise them because they are brethren, but rather they serve them because those who are benefited are believers and beloved. Teach and exhort these things. If anyone teaches otherwise and does not consent to the wholesome words even the words of our Lord Jesus Christ; and to the doctrine which accords with godliness. He is proud, knowing nothing, but is obsessed with disputes and arguments over words, from which come envy, strife, reviling, evil suspicions. Useless wranglings of men corrupt minds and destitute of the truth . Who suppose that godliness is a means of gain. From such withdraw yourself.
--Selected from 1 Timothy 6 : 1-5 NKJV
B R I C K S :
written on Sunday
presented by MIISRAEL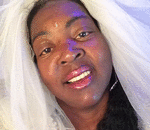 Posted By: MIISRAEL Bride
Sunday, June 26th 2016 at 10:38AM
You can also
click here to view all posts by this author...