Isaiah:
Look down from heaven, and see from
Your habitation holy and glorious.
MIIS:
OUR FATHER:
O' God!
Let Thine eyes see Thy own works, for they are great.
WE SEE THE HOLY GLORIES OF THEE.
Isaiah:
Where are seal and Your strength,
The Yearning of Your heart and
mercies toward me?
MIIS:
Blessings Lord! That Thou hast not
forgotten our love toward Thee?
O' How is the yearning of mine heart,
and the meditations of my own prayers?
I have not restrained Thee.
Isaiah:
Are they restrained?
MIIS:
Why then art Thou quiet in the earth?
Do not conceal or buckle up what mercy is sealed!
Isaiah:
Doubtless, You are Our Father.
MIIS:
Certainly Lord! Thou Are Our Heavenly Father!
Isaiah:
Our Redeemer Everlasting is Your name.
O' Lord, why have You made us stray
from Your ways?
MIIS:
Everlasting Redeemer, our love has not
vanished in the mist,
We have tarried because we have disobeyed Thee!
We have tarried because we have not kept Thy laws
of Love!
We have tarried because we lost trust.
Our hearts have hardened, because our fear has
left us to find comfort in ways of men.
Isaiah:
And hardened our hearts from Your fear?
Return for Your servant's sake,
The Tribes of Your inheritance.
MIIS:
Let all our hearts cry to Thee,
Forgive us!
Return to us the joy of Thy Salvation!
O'Glory to Thee!
Let us flee from the wilderness
And renew us that we will call upon Thee,
and that
WE ARE YOUR PEOPLE.
Who prays in Our Redeemer!
in
Jesus
Amen
--MIISRAEL
Selected from: Isaiah 63: 15-19 NKJV
And a prayer from MIISRAEL with Isaiah
WINNIESPOETRY Paradise July032016Copyrighted.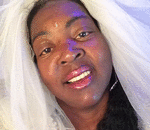 Posted By: MIISRAEL Bride
Sunday, July 3rd 2016 at 8:29AM
You can also
click here to view all posts by this author...