THE ESCAPES. . .......
Day 19. 2016
August
Bluffton, SC
A would be bride would have attended her marriage ceremony instead attends a funeral. News sources said the bride Stacy Evette Bonds had plans to marry the weekend of August 20, 2016, but passed away before it ever happened. The anxious bride died only days before making her wedding vows.The reason for her death was said to be due from a panic attack. The bride's mother said her funeral will be her celebration of a wedding ceremony, because it was what her daughter wanted. The bride had bought the perfect wedding dress was returning home but instead she passed away on August 12, 2016. She will be wearing her beautiful wedding gown to her own funeral. Miss Bonds was 41 years old.
She will always a bride...
WATCH
O_O
"Prayers for family and her would be spouse"
ESCAPES. . . .PATHWAYS
YOU ARE IN THE ESCAPES...
AWAY FROM THE WORLD,
AND WITH THE SPIRIT AND THE BRIDE...
During the dress of the day the patient bride walked in the pathways to Escapes. There was peace in the West Valley in the early hours and it continued through the morning and set the tone of the day. Although the bride realized the noises and the plaques of wars and the loud ringing in other balances were elsewhere in the world--she gave the thoughts to her Lover God with joyful thanksgiving. Yet, there was more in the pathways of her walk, she lived in daily steps of path walks of Life with her Lord's love. Every cornerstone supported her with steps in love and in faith... "You are my constant companion." she said; and continuing she said..."The delight of my eyes, the essence flavor of beauty and peace." The chill of this; caused a tremble of sorts all over her, for there was the knowledge in reverence fear of His great power. He watched her write a love letter and confirmed it..."Yet with your love my Love Letters will not perish in any fires, they are held in your everlasting hands...
Just as I will not perish, and I will live with thee.."
You and I
Always.
--MIISRAEL
She signed her name, and took the letter to the prayers in the pathways of the coming day....
"Then God's temple in heaven was opened, and within His temple was
seen the arch of the covenant, And there came flashes of lightning,
rumblings, peals of thunder, an earthquake and a great hailstorm."
Revelation: 11: 19 NIV
-WINNIESPOETRY THE BOOK OF ESCAPESSept2013Copyrighted.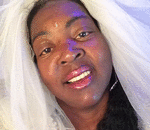 Posted By: MIISRAEL Bride
Saturday, August 20th 2016 at 12:53PM
You can also
click here to view all posts by this author...