HAVE YOU EVER READ A MORNING HAPPINESS?
CAST A MORNING. . .
Happy is one who is in love... They are filled with a joyous heart and are as light in steps that float from their minds to their hearts. Happy is the love that they have Spring time and shining mornings where birds sing sweetly in the trees, and they dote on casting love continually with imaginations of affections. It is a happiness of love that can be with every moment and breath of life! For there is one God which all happiness is connected. Loving Him is with doting; and imaginations of the beauty of His love! Love Him with your whole heart and the sadness will not last long, ....but your old way of life vanishes away... Happiness will cast a morning! Love greatly!
MY DEAR GOD OF LOVE
MY GOD OF MY JOYOUS HEART
AND THE LIGHT OF MY STEPS
I SPRING IN LOVE WITH
A MORNING HAPPINESS
--MIISRAEL
A Woman and a Bride of Virtue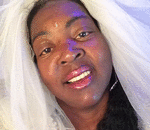 Posted By: MIISRAEL Bride
Tuesday, October 18th 2016 at 8:30AM
You can also
click here to view all posts by this author...