SOMEONE HAS SENT LOVE NOTES'
PART XII
WITHOUT HESITATION
One whom reads. ..
MY DARLING, SWEET VOYAGER: I have you in my body of spirit. I need you in the connection that completes me. Body of my body, Spirit of my Spirit. Unify us dear.
SWEET LOVE: I dream of your breasts and love them in the making of intimacy with you. I look afar in the future of us. . . And I read each of love notes' from you without hesitation. .
MY DOVE: There are dresses I have of made of linen for your fitting labeled to My American Love. Without hesitation my love you will wear them to marry me. ..
MY DEAR: Our love never ceasing and it is without hestitation that I long for you. .
MY BELOVED: My heart is beating a more condensed drumming. . it continues to call you to come quickly love. .without hesitation my dear.
--MIISRAEL
WINNINESPOETRYLOVENOTES'FROMAFRICATRAVELSMarch2017Copyrighted. All rights reserved.
TAKE TO THE ESCAPES
https://www.youtube.com/watch?v=Ry4BzonlVlw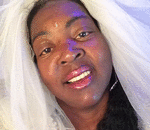 Posted By: MIISRAEL Bride
Saturday, March 18th 2017 at 11:01AM
You can also
click here to view all posts by this author...