HAPPY RESURRECTION SUNDAY!
Praise God!
You should already be feeling the joy and happiness of such a wonderful, and powerful remembrance of the Lord's resurrection. He changed from death to alive! We too shall experience this happiness in every day life as we wake to mornings of new days we have been blessed to wake to be resurrected with Our Lord! Then knowing of such a great and powerful morning happiness cannot be in bondage, but is released to the free! Free in the happiness of God's eternal life that we have also the opportunity of living in days of forever life and never sleeping, but always happy. You can imagine it with the practice of it right now. I know I do. I am happy and you too should be happy too. Roll away a stone that traps your joy...Get up HAPPY ONES!! The Lord did arise!!! You have a resurrection a Morning Happiness!!
MY DEAR GOD OF LOVE
MY GOD OF WONDERFUL POWERS
MY GOD WHO TOOK AND OVERCAME DEATH
MY GOD WHO GIVES RESURRECTION OF A MORNING HAPPINESS
I GET UP HAPPY!!
--MIISRAEL
A Woman and a Bride of Virtue
"I sing because I'm happy, I sing because I'm free...His eye is on the sparrow and
I know he watches me."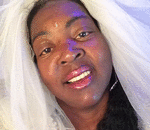 Posted By: MIISRAEL Bride
Sunday, April 16th 2017 at 8:50AM
You can also
click here to view all posts by this author...