YOUR WORLD NEWS
DAY 9
May 2017
Jakarta, Indonesia
A bold sentenced has been placed on Jakarta's Governor on May 09, 2017. Sentenced with two years in jail Bsduki Tjahaja Purnama who is a Christian faced an opposing court because of his statement claiming that he used last year stating that political rivals were deceving people by using a verse from the Koran to say Muslims should not be led by a non-Muslim. Although his sentence was mild considering a max sentence could of resulted in execution or a four year service of jail time. Purnama denied any wrong doings and did apologize for his statement which many found offensive. The trial was based on a hate speech of which Purnama was found guilty of the blasphemy. In a recent re-election Purnama lost to victory of Muslim rival Aneres Basweden. Many of the followers of the former Governor waited outside during the sentencing wept bitterly and many refused to leave right away in support of his sentencing as wrong doing. The case has brought wide spread attention since this involved a Governor who is a Christian. Many Christians are not happy with the decision of him being sentence to jail time; as many Muslims are not happy as well felt more years should had been applied. Purnama is also popular known as Ahok.
Read more from this source of news:
http://www.reuters.com/article/us-indonesia-politics-idUSKBN1842GE
WORLD WATCHING
THE BLASPHEMY OF SPEECH
SOUNDING . . . O_O`
MORE LIKE PROPHECY
OF THINGS TO COME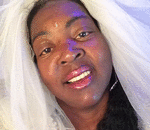 Posted By: MIISRAEL Bride
Tuesday, May 9th 2017 at 2:25PM
You can also
click here to view all posts by this author...