YOUR NATIONAL/WORLD NEWS
Date 10.11.2017
Sonoma, California
It's not a gold rush, but a goal for safety rush...
A most awful dramatic fire started in the valleys of Sonoma California on Sunday, October 08, 2017 as ten of thousands fled from a speedy wildfire carried by quick winds. Residents had very little time to prepare to leave and the rush was expedient. Fires ignited quickly burning homes, automobiles and of course trees and acres of land. Since the fire begun at least 150 people have been reported missing. Firefighters has a master and major fight trying to control the most briskly burning flames. The winds are also assisting in the movement of rapid flames that has cause millions of dollars in damages and total losses on every landing. At least 115.000 acres have be torched. Still with little dying down of the winds the fires are being carried to fill an appetite of a heated kind.
President Trump visited California and has declared a national disaster of the areas involved.
WATCHING IT QUICKLY
o-o
LET PRAYERS BE RUSHED!!
Thanks this news source:
http://www.bbc.com/news/world-us-canada-41576877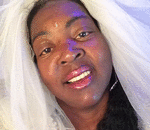 Posted By: MIISRAEL Bride
Wednesday, October 11th 2017 at 9:35AM
You can also
click here to view all posts by this author...