THE SURVEY SAID. . . People around the world are becoming more angry, stressed and worried, according to a new global survey.
YOUR WORLD NEWS
DAY 26
April 2019
WORLD
According to a new latest Gallop poll survey, recent results indicates that the world is filled with angry, and stressed people. The survey involved 150.000 people in 140 countries whom were asked by their opinions on positive and negative feelings. Most of the negative feedback came from the country of Chad followed by Niger. The positive feedback from participants came from Paraguay. Some of the main questions in the survey included how often they smiled or laughed during their regular day activities. Other questions involved how they were respected, or did they feel overlooked or felt they may have been ignored. Around 71% of people said they experienced a considerable amount of enjoyment the day before the survey.
The poll found that levels of stress were at a new high, while levels of worry and sadness also increased. Some 39% of those polled said they had been worried the day before the survey, and 35% were stressed.
In the survey of negative countries, most said they were negative because of living conditions and poverty, other reasons included struggling and hardship with poor income and living conditions. The positive places were said to have good positive outlooks on life and positive outlooks aided in less stressed living.
Feeling Stressed?...
Move to Paraguay!
But most hear that saying,
Be Blessed, not Stressed.
YOU CAN WORLD WATCH
oO~Oo`
Don't worry be happy now!
Source of News: BBC WORLD NEWS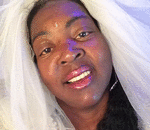 Posted By: MIISRAEL Bride
Friday, April 26th 2019 at 6:59PM
You can also
click here to view all posts by this author...