HERE IS A NOTES' OF THIS DAY. . .
IT READING. . .
THIS DAY
My Dearest Lord of Love:
I am writing with the plant life.
In the vines of the wilderness bushes,
in the twirls of honeysuckles,
In the twists of baby breaths.
We are loving there.
This is a day of rejoicing a romance
into the voices of living gardens.
You understand me love?
-
MIISRAEL
WINNIESPOETRYLOVENOTESMAY2019COPYRIGHTED.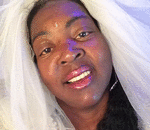 Posted By: MIISRAEL Bride
Thursday, May 16th 2019 at 8:51AM
You can also
click here to view all posts by this author...